We are proud to announce that here at Redshaw Paint Supply we are now authorized distributors of Urethane Supply Company's Nitro Fuzer Plastic welders. We are carrying their Bumper Mate repair stands also. These are a worthwhile way to repair any types of plastic in modern automobiles. Insurers tend to lean towards more hours into repair against replacement whenever part prices rise. When escalating prices come into play the treshold barring repairers from fixing a bumper cover or other component goes that much higher as well. Depending on the OEM or aftermarket there can be a sizable benefit to in house repairs of this nature.
With the Urethane Supply Nitro Fuzer welder you can make large repairs to bumpers and other parts in a way that the repair is as strong as the base material. Which makes it much stronger than any two component products or alternative means of repair. The right tools certainly make it easier to justify a repair on a cover while part prices continually rise.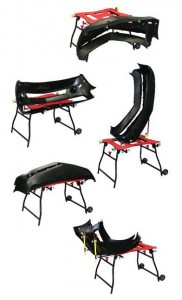 Another nice tool that is available from the folks at Urethane Supply is their Bumper Mate work stand. This is an extremely versatile piece of equipment that once you see it in action you may wonder why it isn't already in your shop. The image to the right shows several different ways to use it in repairing bumper covers.
Feel free to contact your representative if you want to know more.
To see both of these tools in action you can watch the videos below.