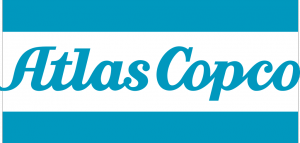 Now here at Redshaw we are selling Atlas Copco air equipment including multiple lines of compressors and air dryers. We are proud to offer Atlas Copco as a great option for users of any size, with a wide range of sizes and outputs. We are focusing on a few of the lines that are very well suited for any shop setting as well as offering a feature packed series of refrigerated air dryers.
We are focusing on a selection of their product lines that we feel will fit the best with most applications. The three series of compressors will perform exceptionally well across a wide variety of use scenarios and duty cycles.
The AR Series piston compressors are an effective entry point for certain use cases. They offer an aluminum crankcase to the compressor body and variable horsepower motors. With anywhere from 5-20HP on top of either an 80-120 gallon capacity tank, as well as a range from 13.8cfm and up at maximum pressure.
The next model up is the LS Series of cast iron block piston compressors. These have options ranging from the same 5HP all the way up to 30HP. Also having a heavier duty full cast iron crankcase. The tanks range from 80 gallons all the way up to 200 gallons for a Duplex unit. They start at running 17.7CFM output and go up from there.
For a shop situation that needs a 100% duty cycle ultra durable compressor Atlas Copco offers the GX Series of rotary screw compressors rated from 3-15HP. They are a full industrial design that is built to be an easy to install and simple to maintain system offering relatively quiet operation. The GX series would be an excellent option for a user needing a quiet and reliable air source for a large shop setting.
They also have a nice option for a full featured refrigerated air dryer in their FX Series Air Dryer. The entire dryer is fit into a compact case that allows the shop to get a dryer that will fit any airflow requirements. These are built to be a plug and play, reliable option that can fit in many sizes of shops. The FX line covers a wide range of airflow ratings and up to 180°(FXHT) inlet temperatures. We are focusing in the 14-49CFM range although they offer many options in much higher volume ratings.
If you find yourself in need of a new compressor or air dryer, we will certainly be able to help you find an option that can fill whatever roll you need in your shop. Please let us know what we can help you with.
If you want to learn more about Atlas Copco equipment please contact any of our sales representatives.